Hans Andersen Brendekilde, "An Afternoon Promenade"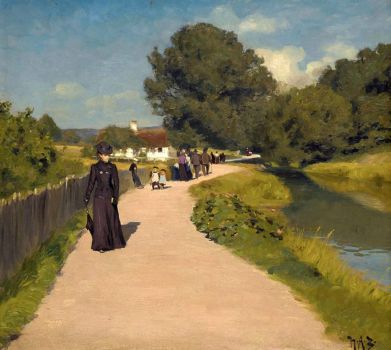 Why are you reporting this puzzle?
He was born Hans Andersen to a poor family in rural Funen, Denmark's third largest island. As a boy he worked in the house of a farmer doing chores. As a young man he was apprenticed to a sculptor in Odense.

He was admitted to the Royal Danish Academy of Fine Arts in Copenhagen, where he initially studied sculpture. He became a friend and associate of painter Laurits Andersen, and in 1881 he left behind sculpting to take up painting. He and Andersen held a joint exhibition, and the two decided to add the names of their natal villages to their surnames to avoid confusion. Hans Andersen became H. A. Brendekilde, while Laurits Anderson became L. A. Ring.

Brendekilde initially worked in a social realist style depicting the plight of the rural peasantry in paintings such as his famous Worn Out (Udslidt 1889), which portrays an elderly farmworker lying fallen on his back in a furrowed field. The painting was exhibited in 1893 at the World's Columbian Exposition. Later he turned to religious motifs, and eventually he mostly depicted idyllic village life.