Willem Claesz Heda—Banquet Piece with Mince Pie, 1635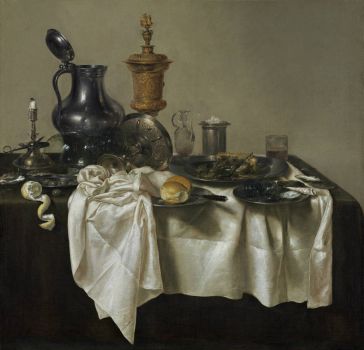 Why are you reporting this puzzle?
"A decade or two later, commercial goods from all over the world began to be imported with more frequency. Such products became necessary, widely available property for everyday Dutchmen. A group of Haarlem-based painters, led by Pieter Claesz
and Willem Claesz Heda, introduced banketjes ("banquet pieces") into the still-life repertoire. These sumptuous paintings reflect and celebrate this increasing prosperity and the country's international exploration (and dominance).

"Heda's Banquet Piece with Mince Pie from 1635 gathers a far more extravagant spread than Peeter's quaint breakfast scene. The warm and muted palette here exemplifies the so-called "monochrome" style Dutch artists preferred for still lifes and landscapes between the 1620s and late 1640s. The gold, silver, and pewter accents pop against the neutral background and white tablecloth. The scale of this painting shows these foods and objects near life-size, and viewers are further drawn into the scene by the plates and lemon peel balancing precariously off the table ledge.

"Among the offerings here are olives and a lemon imported from across the Mediterranean, oysters with vinegar, and precious seasonings like salt and peppercorn. The star of this banquet, however, is the mince pie. Seasoned with expensive imported currants and spices from India and the Near East, mince pie was a delicacy served only on festive occasions.

"As Washington's National Gallery of Art notes, among these trappings of wealth and indulgence, familiar omens of impermanence—and ultimately death—linger in the picture, where much is amiss: glasses are broken and goblets toppled; the pie lies half-eaten; the candle has gone out. The empty oyster shells littering the table advise a similar moral caution. As today, oysters were regarded as powerful aphrodisiacs. Juxtaposed with the uneaten roll in the center of the painting, the oysters suggest that these unseen banqueters, after enjoying the pleasures of the flesh, have ignored their salvation, signified by the bread of life.

"In his 1990 book of essays Looking at the Overlooked, art historian Norman Bryson calls such a scene—of tipped-over goblets, stacked plates, rumpled tablecloths, and broken glasses—a 'still life of disorder' that represents the ongoing battle between vice and pleasure, virtue and abstention. But symbols are often slippery: A broken glass, for instance, might also stand for wealth. It was an odd custom for pub patrons to throw glasses over their heads and pay extra for broken glassware (anyone who couldn't afford to do this drank beer with the unwashed masses)."