Huisduinen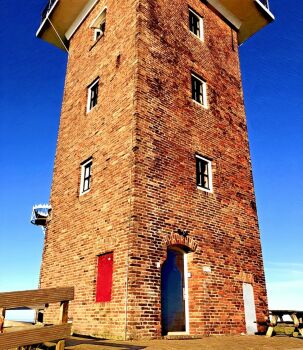 Why are you reporting this puzzle?
The Kustwachttoren van Huisduinen is a square 18 meter high brick tower on the seawall in Huisduinen in the Dutch province of North Holland. It was built between 1948 and 1949 and replaced an iron watchtower for the Coast Guard.
Immediately after completion, a light was lit behind a window on the third floor. Together with the Kijkduin lighthouse, this formed a line of lights for shipping across the Schulpengat. In 1966 the line of lights was moved to Texel, where three spotlights on the transept of the Reformed Church in Den Hoorn formed the high light. Since then, only a sector light has remained on the southwest side of the tower. This light was extinguished in 2013.
The tower was used as a coastguard post until 1990. The tower is a municipal monument and is now used as an exclusive one-room hotel.

De Kustwachtoren van Huisduinen is een vierkante 18 meter hoge bakstenen toren op de zeedijk in Huisduinen in de Nederlands provincie Noord-Holland. Het werd gebouwd tussen 1948 en 1949 en verving een ijzeren uitkijktoren voor de kustwacht.
Direct na de oplevering werd achter een raam op de derde verdieping een licht ontstoken. Dit vormde samen met de vuurtoren Kijkduin een lichtenlijn voor het scheepvaart over het Schulpengat. In 1966 is de lichtenlijn verplaatst naar Texel, waar drie schijnwerpers op de torentrans van de Hervormde kerk in Den Hoorn het hoge licht gingen vormen. Sindsdien brandde er alleen nog een sectorlicht aan de zuidwestzijde van de toren. Dit licht is in 2013 gedoofd.
De toren is tot 1990 in gebruik geweest als kustwachtpost. De toren is een gemeentelijk monument en is tegenwoordig in gebruik als exclusief eenkamerhotel.