Waren (Müritz), Weinbergschloss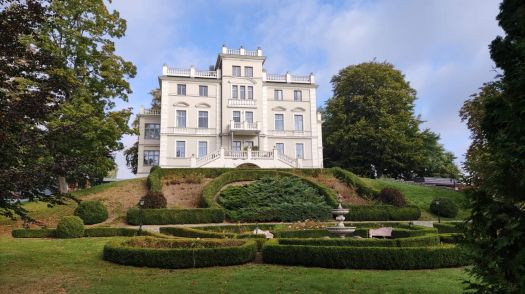 Why are you reporting this puzzle?
(eigenes Foto; 11.10.2021)

Die repräsentative Villa wurde 1872 im Neorenaissancestil erbaut. Das Haus war jbis 1877 kurzzeitig Heimstatt eines Naturhistorischen Museums, danach Sitz der Baudirektion der mecklenburgischen Südbahn und seit 1890 Wohnhaus mit mehreren Wohnungen. Prominentester Bewohner war der mecklenburgische Volkskundler Professor Richard Wossidlo, der bis zu seinem Tod 1939 hier wohnte und arbeitete.
Nach verschiedenen Nutzungen wurde das Haus ab 2002 umfassend saniert. Es hat im Jahr 2005 den Sanierungspreis der Stadt Waren (Müritz) erhalten.
Text der Gedenktafel (Text of the commemorative plaque):
In diesem Haus sammelte In this house collected
Pr. Dr. Richard Wossidlo Pr. Dr. Richard Wossidlo
jahrzehntelang Nieder- for decades Low-
deutsches Sprachgut German linguistic heritage
und Zeugnisse Mecklen- and testimonies of Mecklen-
burgischen Volkstums burg folklore

The representative villa was built in 1872 in neo-Renaissance style. Until 1877, the house was briefly the home of a natural history museum, then the seat of the construction directorate of the Mecklenburg Southern Railway and, since 1890, a residential building with several flats. The most prominent resident was the Mecklenburg folklorist Professor Richard Wossidlo, who lived and worked here until his death in 1939.
After various uses, the house was extensively renovated from 2002 onwards. In 2005, it received the redevelopment award of the city of Waren (Müritz).

La villa representativa fue construida en 1872 en estilo neorrenacentista. Hasta 1877, la casa fue brevemente la sede de un museo de historia natural, luego la sede de la dirección de construcción de los Ferrocarriles del Sur de Mecklemburgo y, desde 1890, un edificio residencial con varios pisos. El residente más destacado fue el profesor folclorista de Mecklemburgo Richard Wossidlo, que vivió y trabajó aquí hasta su muerte en 1939.
Tras varios usos, la casa fue ampliamente renovada a partir de 2002. En 2005, recibió el premio de reurbanización de la ciudad de Waren (Müritz).