Bodamské jezero, Německo ............
Bodamské jezero, Německo ............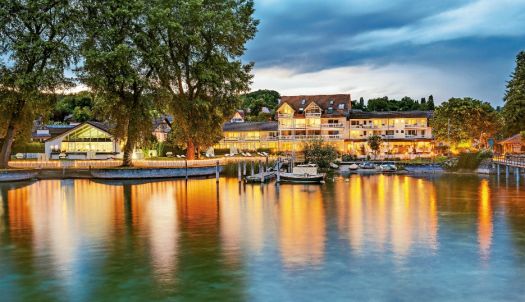 Why are you reporting this puzzle?
......... Lake Constance - a clear lake dotted with a network of cycle paths -
Lake Constance lies on the borders of Switzerland, Germany and Austria. Its southern and western parts are Switzerland, and Lake Constance is also the third largest freshwater in Central Europe.
It was created during the Ice Age due to the Rhine glacier. It offers 571 km2 of clear azure water with the deepest site approximately 252 meters below the surface. It belongs to the cleanest lakes in Europe and is an important reservoir of drinking water for all of South West Germany.
Lake Constance boasts a clear blue-green color of water, which is rarely frozen. It offers the perfect opportunity to visit all year round. The region below the Alps is beautifully in every season.
The lakeside level is only 395 meters above sea level, so its water gets warm, but at the same time you still have alpine giants on the southern shore. In summer, the lake attracts mainly warm water with 20 degrees of water and water sports. You can swim on private and public beaches and it is definitely worth seeing under water even with some diving bombs.
Or wind the wind on the windsurf or sailboat. Like other Swiss lakes, you can also take advantage of the many beaches to explore the beauty of the lake and its three islands: Mainau, Reichenau and Lindau.
Although the floral island of Mainau is located in German waters, the warm windscreen offers a warmer climate than in other parts of the island. Cacti, palm trees, oleanders and cypresses can be found here. And also the orchids and the colorful tropical butterflies found in the butterfly garden.
From spring to autumn, Lake Constance also becomes the center of cycling. Its surroundings are interwoven with a number of hiking trails, which can be explored both in bats and cycling. Around the lake is a 273 km long cycle path (Bodensee Radweg), which invites you to explore natural beauties from the wheel seat. This unparalleled terrain bicycle path is one of the best and most popular in Europe. It can be easily traversed for four days.
However, when cycling a trip, you should not just crouch miles. The surrounding countryside offers plenty of places that are definitely worth stopping. A great place for Bohemia is the town of Kostnice, where the famous Council was held and Jan Hus was burned in 1415. Other places of interest include three medieval castles - 14th-century Turmhof, 16th-century SchlossArenenberg and Gotlieben from the mid-14th century.
Bicycle trails are in excellent condition. So instead of cycling, you can go for the whole route even on roller skates or your favorite scooters ..........