1927 Austin Seven 'Chummy'-08
1927 Austin Seven 'Chummy'-08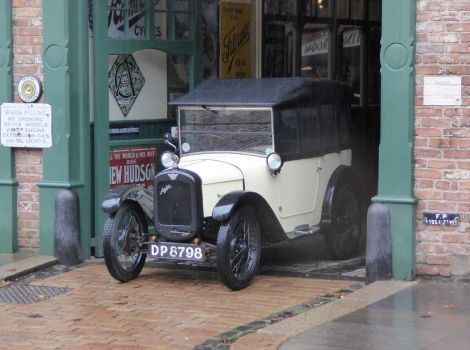 Why are you reporting this puzzle?
A Small Repair Job

Standing at the garage on the town street in Beamish Museum is one of the undoubted stars of the British motoring past, a charming little white Austin Seven AD (four seater) "Chummy" tourer of 1927, registered DP 8798.

The car has a 747cc engine and a three speed gearbox, and looks a lot of fun - unless you happen to be a larger person! On the plus side, it's very easy to get it into and out of tight spots!

The Austin Seven, popularly known as the "baby Austin", was one of the great success stories of British motor manufacturing, turning around the fortunes of Austin Motor Company and producing arguably the British equivalent of the American Ford Model T. They were manufactured from 1922 to 1939 in massive numbers (around 300,000 by the end of production) and saw off most of the small car and cyclecar competition.