Alta Vista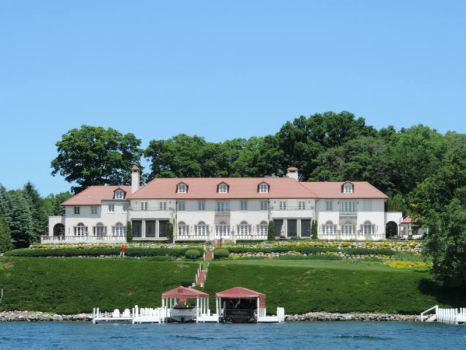 Why are you reporting this puzzle?
This massive Lakefront Estate was built in 1919 for Colonel William N. Pelouze, the founder of the Pelouze Scale and Balance Company. At the height of their success, Pelouze scales were used exclusively by the United State Postal Department. The home you see pictured above is actually the second Alta Vista.

The original Alta Vista Lakefront Mansion was built for Orrin Potter in 1881. Mr. Potter was a brilliant businessman who merged the Union and Illinois Steel companies. He is credited with bringing the iron and steel industry from Pennsylvania to the Midwest. The original Alta Vista estate was a beautiful Victorian and was destroyed in a fire in 1919, just after being purchased by the Pelouze family.

More recently, this Lakefront Lake Geneva Property was owned by the Vick family, famous for Vick Pharmaceuticals. You probably have a jar of their famous Vicks Vapor Rub stashed away at home.

Alta Vista is one of the most talked about Lakefront Estates on Geneva Lake and a real joy to admire.