Grand Canyon National Park, Arizona, USA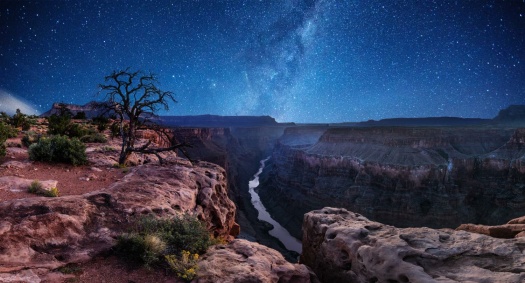 Why are you reporting this puzzle?
There would be no sleep for us if we were to spend the night here in nature's magic in
Grand Canyon National Park
. How profoundly stunning this is.
Grand Canyon National Parl is in northwestern Arizona in the USA. The park covers 4,926.08 km2 of depths, exposed layers of colourful rocks dating back to
Precambrian times
, rugged land, rivers and streams. It was established more than one hundred years ago and is a UNESCO World Heritage Site.
We see the night sky appearing so brightly in Today's Daily Puzzle. The park has a Grand Canyon National Park Night Skies Program, in which they aim to make the experience available to as many people as possible. And also take good care to protect the experience from light pollution.
You can read about their program here
or just lean back and enjoy Today Daily Puzzle – feeling the absolute grandness of it all ♥
How many accounts can a person have on Jigidi?

1 account; or 2 if you have a creative need for a second account - but this requires transparency in your profile descriptions that you hold both accounts. To trust each other and interact with our shoulders down and hearts soft, we all must know with whom we are communicating.

Read more about what to do if you have more than one account on Jigidi.