"The Lonely Ones. Two People" (1895)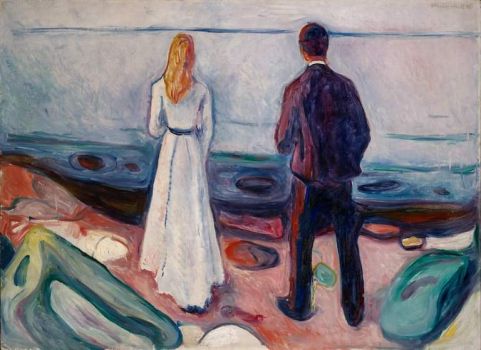 Why are you reporting this puzzle?
Born in Loieten, near Kristiania (now Oslo), Norway, Edvard Munch was the son of a military doctor. Childhood experiences with death and sickness—both his mother and sister died of tuberculosis (an often-fatal disease that attacks the lungs and bones)—greatly influenced his emotional and intellectual development. This and his father's fanatic Christianity led Munch to view his life as dominated by the "twin black angels of insanity and disease." After studying engineering, Munch soon turned to art. In 1880 Munch began to study art and joined the realist painters (school of painters who sought to depict their subjects as realistically as possible) and writers of the Kristiania bohemian (fashionable and unconventional) circle. His ideas were strongly influenced at this time by the writer Hans Jaeger (1854–1910), who sought to establish an ideal society based on materialist atheism (not believing in material wealth) and free love. Jaeger's hopeless love affair with the wife of Christian Krohg, leader of the bohemian painters, and Munch's own brief affairs caused him to intensify the connection he saw between women, love, and death. Munch's paintings during the 1880s were dominated by his desire to use the artistic vocabulary of realism to create subjective content, or content open to interpretation of the viewer. His Sick Child (1885–1886), which used a motif (dominant theme) popular among Norwegian realist artists, created through color a mood of depression that served as a memorial to his dead sister. Because of universal critical rejection, Munch turned briefly to a more mainstream style, and through the large painting Spring (1889), a more academic version of the Sick Child, he obtained state support for study in France.