Today In Earth History - National Asteroid Day (aka I Hope You Made A Will and Your Life Insurance Is Current Day)
Today In Earth History - National Asteroid Day (aka I Hope You Made A Will and Your Life Insurance Is Current Day)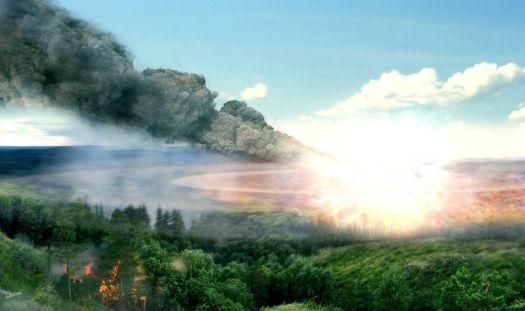 Why are you reporting this puzzle?
On this day, June 30, 1908, a meteor struck Tunguska, Siberia causing total devastation, hence the United Nations has proclaimed that Asteroid Day will be observed globally on June 30 every year to raise the level of preparedness for the next devastating asteroid hit by informing the populace to have an ample supply of sun tan lotion, oven mitts, wieners for roasting and Depends. For the complete list, please visit www.runlikehell.com.   

Am I the only one fascinated by the Tunguska event? The Tunguska event was a large explosion that occurred over a sparsely populated section of Russia on the morning of 30 June 1908. It is estimated that the Tunguska explosion knocked down some 80 million trees over an area of 2,150 square kilometres (830 sq mi), and that the shock wave from the blast would have measured 5.0 on the Richter magnitude scale, yet caused no known human casualties (due in large part to the fact that most of the inhabitants of Siberia are invisible). Since no impact crater was found, the object is thought to have exploded directly above Tunguska rather than hitting the surface of the Earth and it is estimated the energy released from the Tunguska asteroid was about 1,000 times greater than that of the atomic bomb dropped on Hiroshima, Japan, capable of destroying a large metropolitan area such as New York or Los Angeles..Will it happen again? Astrophysicist Alan Fitzsimmons reportedly warned that it is a not case of IF an asteroid collision will happen, but WHEN it will happen.... "But it is still possible the next Tunguska would take us by surprise, and although we are much better at finding larger asteroids, that does us no good if we are not prepared to do something about them." Perhaps it is about time for the 3 world "super powers" (Larry, Curley and Moe) to stop the pissing contest and get busy making us safe from potentially dangerous rogue asteroids, metal munching mice and rap music. 

"Woke up this morning with light in my eyes
And then realized it was still dark outside
It was a light coming down from the sky
I don't know who or why

Must be those strangers that come every night
Those saucer shaped lights put people uptight
Leave blue green footprints that glow in the dark
I hope they get home alright"