ᨏ🌞ᨏ Landscape in March ᨏ🌞ᨏ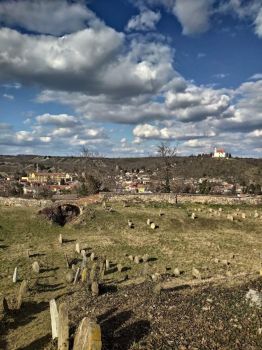 Why are you reporting this puzzle?
This photo is interesting in that two cultures and religions meet here across the time. In front is a medieval Jewish cemetery on which we see tombstones and a massive stone wall that surrounds the entire complex. From the size of the cemetery we can imagine how big the place of reverence was, which is today protected and kept in a stabilized state. On the hill above the town we see a small Roman Catholic church to which the road leads from the town in the valley. When you zoom the photo, you can see small white spots around the pedestrian path, these are the small chapels of the Stations of the Cross leading from town to Calvary at the top of the hill. Churches on the hills were built as a memorial to the path of Christ's suffering, the main church is always in the square of the town. History of the extinct Jewish culture (due to the horrors of World War II) thus meets the practicing Roman Catholic religion in this small town.
Are you looking to change your password?

It's always a good idea to consider if you need to change your passwords on the different services you use. We have created a guide for you on how you can change your password on Jigidi.