Laurits Tuxen, "The Life Boat Rows Out"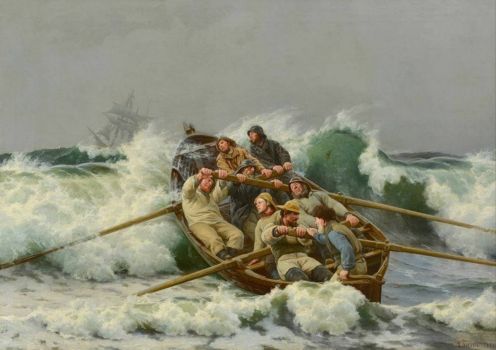 Why are you reporting this puzzle?
Tuxen was brought up in Copenhagen. As the son of a naval officer, he originally wanted to be a marine artist. When training at the Royal Danish Academy of fine Arts, he and Peder Severin Krøyer were considered to be the most talented students.

Tuxen first visited Skagen in 1870, and he returned several times during the 1870s. More than 20 years would pass before he returned in 1901. During that time Tuxen trained as a painter in Paris together with Peder Severin Krøyer and he was one of the co-founders of the Kunstnernes Frie Studieskoler, which was established as an alternative to the academy.

Tuxen became a popular portrait painter and travelled a lot due to commissions from the royal courts of Europe. Among others, Tuxen painted large group portraits of the families of the Danish king, Queen Victoria and the Russian Tsar.

Tuxen was married to Ursule de Baisieux from Belgium, with whom he had two daughters, Yvonne and Ninna. When his wife died in 1899, he went on to marry Frederikke Treschow from Norway in 1901 and the family settled in Copenhagen.