For alliebono - The church of St Mary & St Nicolas, Spalding - 28th July 2010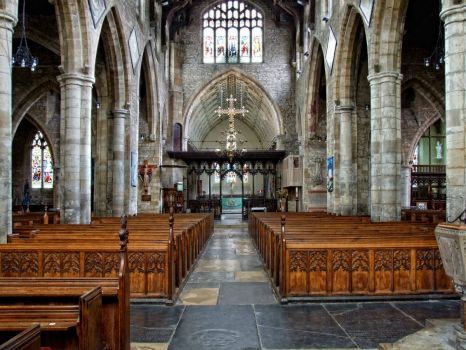 Why are you reporting this puzzle?
The rather impressive nave.

The site of the church was that of a Norman cemetery chapel of St Thomas Becket. It was built cruciform during 1284 by the priory under William de Littleport - Link. The tower was started about this time - Link, but as a detached structure. All the rest is of the 14th, 15th and 19th century.

The St Thomas Becket chapel - Link, which stands at the east end of the south aisle, was added in 1315. The south aisle - Link was added in 1360, the north - Link during the late 15th century. In 1450 the height of the church was raised by two metres, which involved rebuilding the arcades - Link. During this time it was given the addition of a clerestory - Link and hammer-beam roof - Link. The spire is believed to have been added in the early 15th century as was the huge seven-light west window - Link.

Immediately ahead is a brass chandelier of 1766 - Link. During festivals its 36 candles are lit. To the rear is the rood (cross) screen - Link part 1875 (by J. Oldrid Scott) and part 15th century, above which hangs the rood (cross) Link, which was repainted in 1959. To the right, above and behind the lectern, is the organ loft - Link, which was built when the organ was rebuilt, in 1972.

To the left stands the pulpit with tester, by George G Pace of York - Link. This has replaced a much larger three-decker pulpit. To the left of this, on a flattened arch, is a figure of Our Lord on the Cross - Link, which was given in memory of Basil Gordon Nicholas, the vicar here between 1920 and 1945 - the year of his death.

To the right is a glimpse of the baptismal font, of 1868 - Link.

The church faces east-southeast to west-northwest, rather than east to west - Link

I'm sorry the links don't work, you'll have to go here to see those - http://www.geograph.org.uk/photo/1988250

The Geograph site has over 3.8 million photographs of the British Isles including 10,000 of mine.