Bengal cat looks like a mini tiger!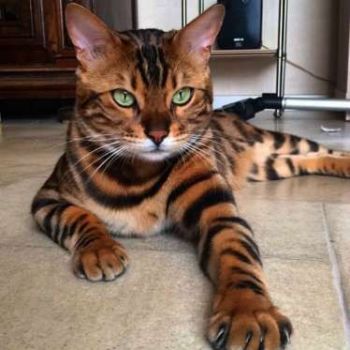 Why are you reporting this puzzle?
Meet Thor, the most majestic cat in the world, who just so happens to resemble a teeny-tiny tiger.

Living in Belgium, this pretty Bengal kitty has over 23,000 followers on Instagram, all because of his breathtakingly beautiful coat.
-------------------------
Thor is definitely beautiful, but it may be better to look at him rather than be inspired to own a Bengal cat of your own.

Members of the breed are very active, and need a lot of mental stimulation. They also aren't lap cats and don't do well being left alone for hours, according to cat behaviorist Marilyn Krieger. And Krieger recommends that those people with their heart set on a Bengal should look into breed-specific rescues and give a cat in need a good home, rather than going to a breeder.