Different dog friends. . . different life styles.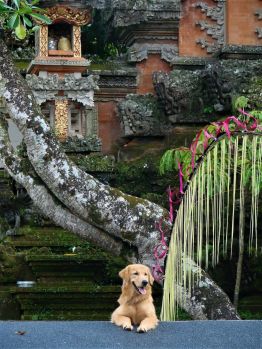 Why are you reporting this puzzle?
"Temple Dog"
I hope I am not causing offense to call her/him a "temple dog". And I want to say that this is the only time I've seen a dog at a Bali Hindu temple. And he is on the outside, not the inside, of this temple. I surmise that perhaps his owner has put him/her here while eating in an adjacent restaurant. . . . although our canine friend looks pretty comfortable here. . .and quite at home. Hmmm. . . .



Adjacent to the Lotus Cafe, on Jl. Raya Ubud (street), Ubud - Bali.
19 November 2020 - 6 April 2015