"Fancy Footwork"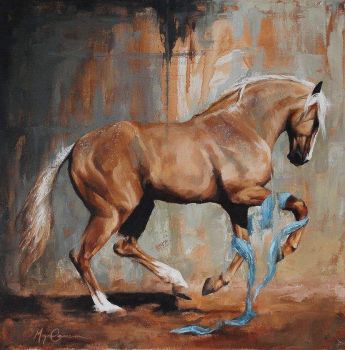 Why are you reporting this puzzle?
Statement by Morgan Cameron;
My subject matter focuses mainly on animals and capturing a sense of movement and narrative through the captivating style of disrupted-realism. Living creatures are constantly moving and twitching, especially animals, and I strive to capture that movement in my paintings. This may be why I am drawn to looser forms and brushwork and have been since I was in college and first discovered the style, it's always been so captivating and expressive to me. It is less precise and leaves room for improvisation during the creation process and makes gestures of ideas that the viewer can decipher as they wish. Life moves and thrives in unpredictable ways and takes on a rhythm of its own and that's what I aim to achieve in my work. I wish to assist the subject with the appearance of movement and life and to meld the forms to create something that feels united throughout the painting as a whole. Much of the time I use loose, colorful backgrounds without the distraction of exact forms, to create an atmosphere that's main objective is to move around the main subject but hold your focus on the creature(s) in the painting. Even then I work to make the subject feel united with its background and have the painting feel whole and harmonious. And when I do include more information in my backgrounds, my ultimate goal remains the same. I use several different tools to achieve this combination of realistic and abstract forms and I'm constantly trying to develop all their uses and possibilities, many of which are discovered during creation process itself.