Slow Cooker Spinach Artichoke Dip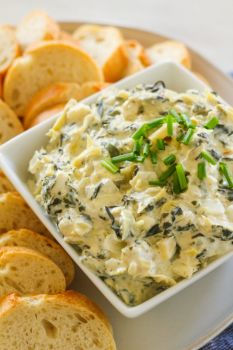 Why are you reporting this puzzle?
Ingredients
1 head of garlic (using 2-3 cloves)
olive oil for drizzling
2 cans artichoke hearts, drained and chopped
1 10 oz package frozen spinach, thawed and squeezed dry
8 oz light sour cream
1/2 sweet onion, diced
1/2 cup parmesan cheese
1/2 cup milk
1/2 cup crumbled feta cheese
1 Tbsp red wine vinegar
juice from half a lemon
1/4 tsp salt
1/8 tsp freshly ground black pepper
1/4 tsp red pepper flakes
8 oz cream cheese, cubed

Instructions

How to roast garlic:
Preheat your oven to 400 F. Peel off the loose outer layers of the head of garlic. Slice off about 1/4 inch off the top of the garlic head. Drizzle a couple teaspoons of olive oil over and cover the bulb with aluminum foil. Bake for 30 minutes. Let cool, and use 2-3 of the roasted cloves for the dip.

For the dip:
Place 2-3 cloves of roasted garlic, artichoke hearts, spinach, sour cream, onion, garlic, Parmesan, milk, feta, vinegar, lemon juice, salt and pepper, and red pepper flakes into a slow cooker. Stir until well combined. Top with cream cheese.

Cover and cook on low heat for 2 hours.

Uncover and stir until cream cheese is well combined.