Harvey-1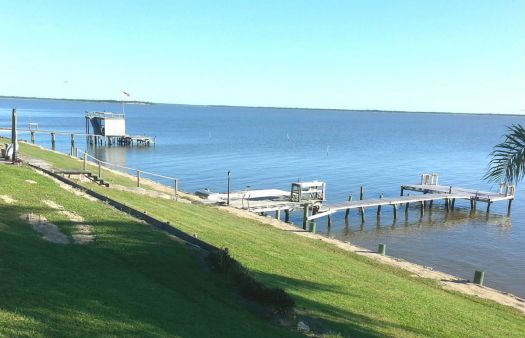 Why are you reporting this puzzle?
There are 4 Harvey Hurricane puzzles being placed here.
Harvey 1, 2, 3, and 4. This location is at the north end of Lavaca Bay.

Friends in Organ were worried about one of their friends in Aransas Pass.
This friend moved her RV 50 miles from Aransas Pass and road out the storm.
Port Lavaca is 60 miles from Aransas Pass so we got about the same impact she would have gotten.

Harvey was a powerful fast moving storm but small diameter for a hurricane.
Aransas Pass got tore up. The airport at Port Lavaca which is 60 miles NE as the crow flies showed sustained winds at 100 mph.
Our neighborhood received no structural damage but all piers and boathouses were whipped out.

The storm surge is what hurt the towns on the inland bays.
As all that water came in from the gulf to the narrow bays there was no place for it to go but up.
Lavaca Bay is long and narrow, the water pushed in and raised the tide 9 feet above normal.
I'm on the north end of Lavaca Bay and that is where these AFTER pictures came from.
Harvey-1 This is the week before Harvey came ashore at Aransas Pass.
I had just put out new fill dirt along the bulkhead. Note the concrete steps and guardrail going down to the pier, damage in this area will be shown in the Harvey-4 puzzle.