Staubbach Falls - the third highest waterfall in Switzerland.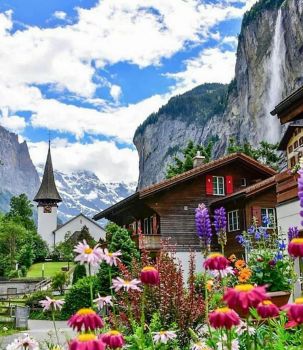 Why are you reporting this puzzle?
Lauterbrunnen valley is situated in one of the most impressive trough valleys in the Alps, between gigantic rock faces and mountain peaks. With its 72 thundering waterfalls, secluded valleys, colourful alpine meadows and lonely mountain inns, the Lauterbrunnen Valley is one of the biggest nature conservation areas in Switzerland.

With a height of nearly 300 meters, Staubbach Falls, on the edge of the village of Lauterbrunnen, is the third highest waterfall in Switzerland. In the summer warm winds swirl the waters around, so that the Falls spray in all directions. These droplets of water spray gave the brook and the waterfall its name. (Staub = dust)

Early on romantics and nature lovers made a pilgrimage to Staubbach Falls at Lauterbrunnen, one of the highest free falling waterfalls in Europe. The poet Johann Wolfgang von Goethe is said to have been inspired to write his poem "Song of the Spirits over the Waters" by the Falls.