Z6 New PointComfort, VA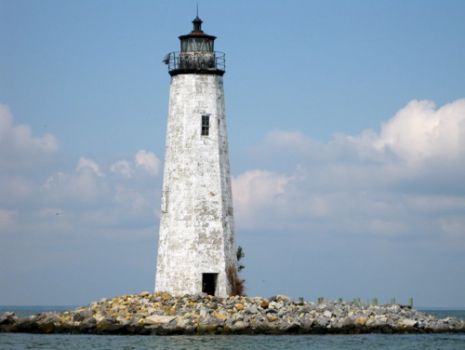 Why are you reporting this puzzle?
New Point Comfort Light is a lighthouse in the Virginia portion of the Chesapeake Bay, United States, off the tip of the Middle Peninsula. Finished in 1804,[3] it is the third-oldest surviving light in the bay, and the tenth-oldest in the United States.
New Point Comfort was one of four locations in the Chesapeake Bay designated for a lighthouse by the newly formed federal government, and in 1801 funds were appropriated for its construction along with a light at Smith Point. Both were constructed by Elzy Burroughs, who also constructed the light at Old Point Comfort which is nearly the twin of this light. (Note that Old Point Comfort and New Point Comfort are two different locations, not two different lights on the same spot.) Burroughs's involvement with New Point Comfort, however, extended beyond construction. New Point Comfort at the time was a small island separated from the mainline by a narrow passage named Deep Creek. A dispute with the owner of the island over the portion needed for the light led first to an additional appropriation; but then Burroughs bought the entire island and sold the government the few acres needed for the light. His decision to subcontract out the construction of the keeper's house proved unwise, and the subcontractor took sick and was unable to supervise the firing of the bricks for the house, which were thus ruined. In the end, Burroughs was appointed keeper himself, a position he held for ten years.