On the Yacht Namouna, Venice 1890, by Julius LeBlanc Stewart
On the Yacht Namouna, Venice 1890, by Julius LeBlanc Stewart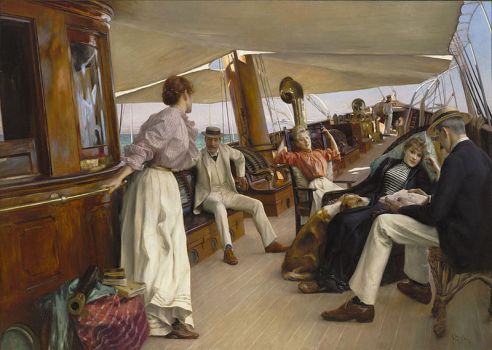 Why are you reporting this puzzle?
I just completed reading the excellent 'In the Kingdom of Ice,' by Hampton Sides. (see http://www.nytimes.com/2014/08/17/books/review/in-the-kingdom-of-ice-by-hampton-sides.html?_r=0 for more information on the book. )

The fabulously wealthy and flamboyant (James) Gordon Bennett, Jr. (May 10, 1841 – May 14, 1918), is an integral part of the story of an ill-fated attempt to reach the North Pole, that is the subject of Sides book.

This painting is by American expatriate artist Julius LeBlanc Stewart, who painted several works set on the yacht Namouna. The yacht was owned by Bennett. Bennett is the man in the white suit, center left. Lillie Langtry is seated in blue.

" Gordon Bennett, was publisher of the New York Herald, founded by his father"............ "Bennett organized both the first polo match and the first tennis match in the United States, and he personally won the first trans-oceanic yacht race.

He sponsored explorers including Henry Morton Stanley's trip to Africa to find David Livingstone, and the ill-fated USS Jeannette attempt on the North Pole.

However, he often scandalized society with his flamboyant and sometimes erratic behavior. In 1877, he left New York for Europe after an incident that ended his engagement to socialite Caroline May. According to various accounts, he arrived late and drunk to a party at the May family mansion, then urinated into a fireplace (some say grand piano) in full view of his hosts.

Bennett's controversial reputation has been thought to have inspired, in the United Kingdom, the phrase "Gordon Bennett" as an expression of incredulity."

copied and paraphrased from Wikipedia :https://en.wikipedia.org/wiki/James_Gordon_Bennett,_Jr.