Regensburg, Germany and It's Stone Bridge....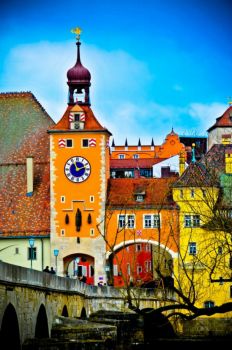 Why are you reporting this puzzle?
Regensburg, a Bavarian city on the Danube River in southeast Germany, is known for its well-preserved medieval core. The 12th-century Stone Bridge, a 310m-long icon with 16 arches, crosses the river to the old town. The 13th-century Regensburg Cathedral, a twin-spired Gothic landmark, is home to the Regensburger Domspatzen choir. Walhalla, a Parthenon replica just east of the city, honors illustrious Germans.

Founded by the Romans in 179 AD as Casta Regina (meaning Fortress by the River Regen), Regensburg is one of Germany's oldest towns. It was relatively spared from Allied bombings during World War II. Today, many flock to see the wonderfully intact old city and its many medieval structures. The 12th-century Stone Bridge was used by Crusaders en route to the Holy Land. The Regensburg Cathedral (or Dom St. Peter) is one of southern Germany's finest examples of Gothic architecture.