Fence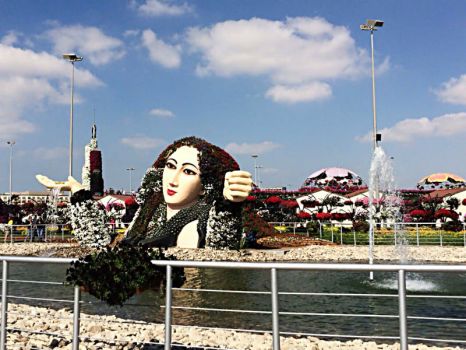 Why are you reporting this puzzle?
Dubai Miracle Garden-2014

Arid Dubai isn't where you'd expect to find the world's biggest natural flower garden, but then again the state specialises in superlatives and the unexpected – as well as the world's tallest building and the world's tallest hotel, it includes such incongruous attractions as the substantial ski resort Ski Dubai, which is chilled all year and comes complete with real snow.
Located in Dubailand near the Arabian Ranches and opened on Valentine's Day, Dubai Miracle Garden contains over 45 million flowers over a 72,000 sq metre site and, as well as traditional flowerbeds, it features topiary-style displays with blooms fashioned into the shapes of hearts, stars, igloos, pyramids and so on. Intended as a tourist attraction which should attract one million visitors a year once fully established, the site was developed by the landscaping company Akar. Floral displays will change each season so that repeat visitors will have a new experience each time.
Speaking to Gulf News, developers of the garden have said that it has been possible to develop this oasis in the desert "through judicious re-use of waste water, through drip irrigation." While Britain is still to emerge from the ongoing cold snap, winter in Dubai provides the optimum growth period for flowers and the garden will close at the peak of summer.
Although not entirely complete – there are plans for retail outlets, restaurants and shops by the site – the Dubai Miracle Garden is open to the public from 10am to 10pm on weekdays and 10am to midnight on weekends and on public holidays, October to late-May; the entry fee is 20Dhs for adults and children aged three and above.