They're here!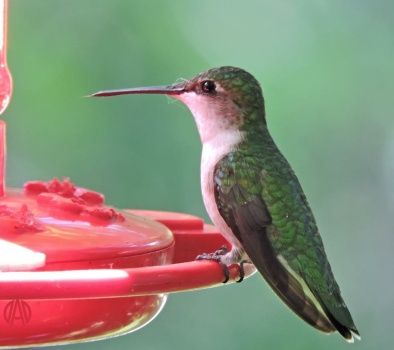 Why are you reporting this puzzle?
I wasn't sure if I'd get hummingbirds in my new place, which is woodsy and has nowhere near the flowers that my mother's place had.

They normally arrive the first week of May, so I put out feeders the last week of April. However, it wasn't until dusk around the 11th of May that I heard that distinctive hum, looked up, and there was a hummingbird. There are at least several - I see them now almost every time I'm out there, and I have males fighting over access. That means I have to condition another feeder and set it up on the other side of the house, out of sight of these.

One male has the delightful habit of flying down to a few feet in front of me, where he hovers and pivots while inspecting the underside of my porch roof for spiders or other potential meals.

I haven't spent the time to try to photograph them here; this is a reprise of a 2014 picture, taken before I upgraded to my newer, safer, ant-proof feeders.