It's Set in Stone!
It's Set in Stone!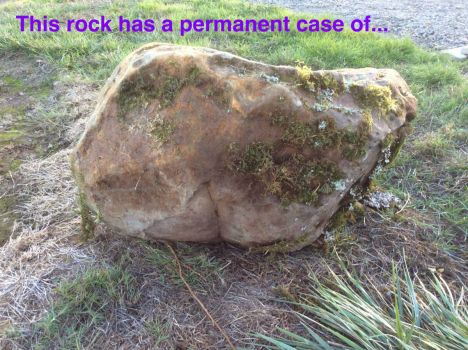 Why are you reporting this puzzle?
This boulder was carried into the Willamette Valley by the Missoula Floods. The Missoula Floods were incredible. Here's a brief overview from

http://columbiariverimages.com/Regions/Places/missoula_floods.html

Between 80,000 years ago and 10,000 years ago ice sheets called the "Wisconsin Glaciation" covered much of North America, including Northern Washington, Idaho, and Montana. Towards the end of this glaciation a large ice dam blocked the Clark Fork River in the Idaho Panhandle, creating "Glacial Lake Missoula". This lake was a massive lake 2,000 feet deep filling the valleys of western Montana. It stretched eastward more than 200 miles and, at its maximum height and extent, contained more than 500 cubic miles of water - more water than Lake Erie and Lake Ontario combined. Periodically, the ice dam would fail, resulting in a large catastrophic flood of ice- and dirt-filled water which rushed across northern Idaho and eastern and central Washington, down the Columbia River, through the Columbia River Gorge, and finally poured into the Pacific Ocean at the mouth of the Columbia River. Flood waters filled the Willamette River Valley, reaching Eugene, Oregon, more than 100 miles away. When Lake Missoula burst through the ice dam and exploded downstream, it did so at a rate 10 times the combined flow of all the rivers of the world.