Perentie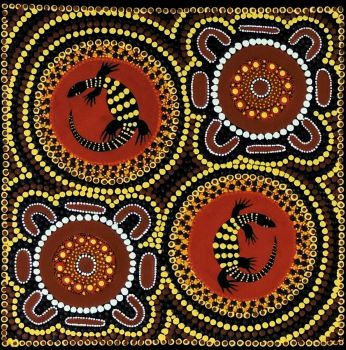 Why are you reporting this puzzle?
Kathleen Buzzacott

The perentie (Varanus giganteus) is the largest monitor lizard or goanna native to Australia, and the fourth-largest living lizard on earth, after the Komodo dragon, Asian water monitor, and crocodile monitor. Found west of the Great Dividing Range in the arid areas of Australia, it is rarely seen because of its shyness and the remoteness of much of its range from human habitation.

Its status in many Aboriginal cultures is evident in the totemic relationships, and part of the Ngiṉṯaka dreaming, as well as bush tucker. It was a favoured food item among desert Aboriginal tribes, and the fat was used for medicinal and ceremonial purposes.
(from Wikipedia)

Kathleen Buzzacott was born 1970 in Alice Springs in Central Australia and is of Pitjantjatjara, Scottish and English heritage. She moved to Queensland for some time with her brother and sister to live with her father. However at aged 10, she returned to live with her mother at Hermannsburg in Central Australia. These formative years hunting and digging for honey ants are often reflected in her art.

Kathleen's art reflects her early childhood experiences and her life in general, telling Aboriginal stories on canvas and featuring native bush creatures. Her husband Keith and their two sons still hunt emu and kangaroo, and they often go camping around her husband's traditional home of the Arrernte People, west of Alice Springs.
Do you know enough about copyright?

When you share material online, it's necessary to know what copyright law says about sharing online material. We have created a copyright video guide for you that will give you a basic understanding, along with 4 tips on how to share material within the boundaries of copyright law.