Mission Style Tiffany 3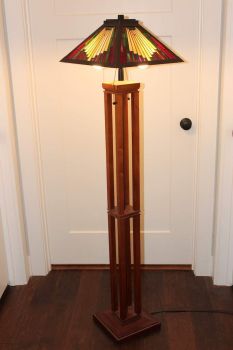 Why are you reporting this puzzle?
This is the smallest of the shades, and you can see both light bulbs.
The shade is also of slightly different construction. The other two shades were pieces of glass all leaded together into a single piece.
The four glass sides of this shade are all separate pieces. The frame work of the shade is metal, and each piece is mounted inside the metal framework and held in place by "tabs" that are folded in to hold the sides in place. It's also the heaviest of the shades.