May 4 is National Hoagie Day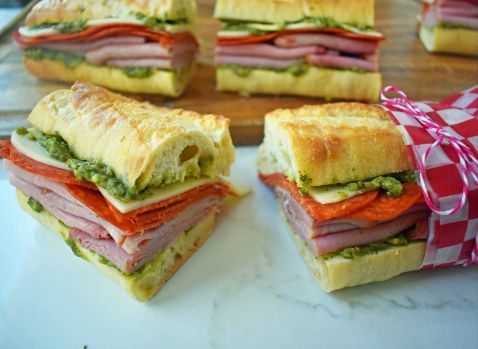 Why are you reporting this puzzle?
The blogger here calls 'em by yet another name for subs, grinders, po' boys, heroes, etc. She says:

"Italian Pressed Sandwiches made with pesto sauce, Italian meats and cheeses, and fresh tomatoes and lettuce is [are] always a super big hit!

Course: Sandwich
Cuisine: Italian
Servings: 8
Author: Melissa Stadler, Modern Honey

Ingredients
1 Loaf French Bread French Baguette, or Italian Round (see post for descriptions)
1/2 cup Pesto Sauce may use more depending on preference
3/4 lb. Black Forest Ham or your favorite ham
1/4-1/3 lb. Deli-sliced Salami
1/4-1/3 lb. Deli-sliced Pepperoni
8-10 Provolone Cheese Slices

Optional:
2 Tomatoes diced
2 Tablespoons Olive Oil
1 Tablespoon Red Wine Vinegar
1 teaspoon Oregano
1 teaspoon Salt
1 Head of Iceberg or Romaine Lettuce thinly shaved
1/4 Red Onion thinly sliced

Instructions
Start with a loaf of french bread, french baguettes, Italian round bread cut down the center (If you are making it ahead of time and want it to stand up to the pesto or vinaigrette, go for a hearty baguette. If you are eating it that day, you can choose a softer bread).

Spread it with pesto sauce, an olive oil vinaigrette, mayonnaise, or an Italian dressing. Spread your pesto sauce or mayonnaise over both sides of the bread. If using an Italian vinaigrette, drizzle it over the top of the meats, lettuce, or tomato.

Top it with your favorite Italian meats and cheese.

In a small bowl, add tomatoes,olive oil, vinegar, and spices. Another option is to top with sliced tomatoes and drizzle with oil, vinegar, salt, pepper, and oregano.

Top with shredded lettuce and thinly sliced red onion.

Drizzle with an Italian dressing or olive oil, red wine vinegar, and a sprinkle of oregano.
If making ahead of time, tightly wrap in Sarah Wrap and place in the refrigerator. If you want a true pressed sandwich, place something heavy on top of the sandwich to allow the flavors to meld together overnight. If you make them ahead of time, you can wait to dress the sandwich with the Italian dressing to make sure the bread doesn't get soggy overnight.

Another option is to toast your sandwich. Put the meat and cheeses on top of the bread and place under a broiler for 2-3 minutes, until the cheese is melted. Watch it carefully because it can go from perfectly golden to perfectly burned in 2.5 seconds. After you remove it from the oven, you can top it with your tomatoes and lettuce."

MISCHKA here again:

The food calendar also cites May 4 as National Candied Orange Peel Day and National Homebrew Day, but I'll leave those to someone else.