Powerful Tug boats were deployed during the salvage operation last weekend.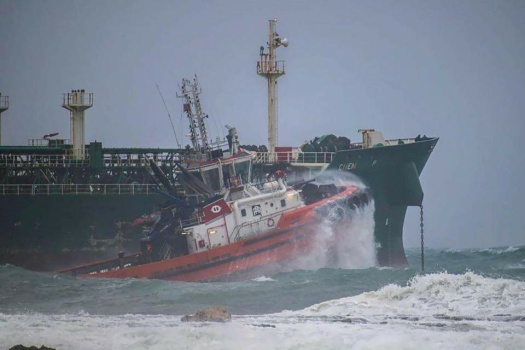 Why are you reporting this puzzle?
This is one proud moment for the Malta Maritime Forum (MMF) to take a step forward and salute all those involved in the salvage operation on the chemical tanker Chem P, particularly Tug Malta and its crew members who, through their determined and brave actions, last weekend, managed to avert disaster for the vessel, its crew and, potentially, Malta's eastern coastline.
The 209-metre chemical tanker that lost control in the gale force easterly wind and found itself drifting towards perilous proximity of the Baħar iċ-Ċagħaq coastline over the weekend.
This situation, of course, posed imminent danger to the lives of 20 crew members on board the Chem P, the integrity of the ship itself as well as the potential pollution hazard arising from the chemical residue in the empty hold of the tanker and 300-odd tonnes reserve of gas oil fuel reportedly on board.
Due merit is also due to Harbour Master, Capt. David Bugeja, for his able coordination of the operation from Transport Malta HQ. In the words of Bugeja himself, when speaking to Times of Malta, two tugboats were soon on the scene, fighting frantically to get the vessel tied to their lines and keep it from veering closer to the rocks.
"If no action had been taken, we could have, unfortunately, seen the possibility of the vessel becoming grounded and even perhaps the loss of life, the 20 souls on that ship," he said.

Judge Emeritus Joseph Zammit McKeon is the chair of the Malta Maritime Forum.