Eugene Verboeckhoven, "Winterscape with Cattle Drivers"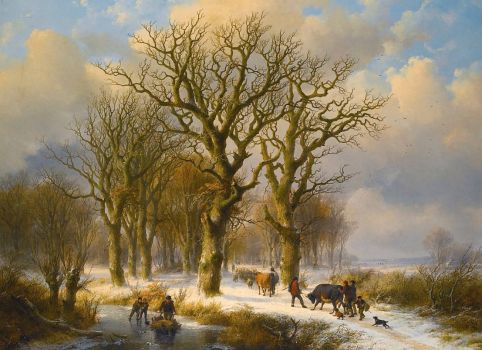 Why are you reporting this puzzle?
Eugène Joseph Verboeckhoven (1798 – 1881), a Belgian painter, was born at Warneton in West Flanders. He was a painter, a sculptor, an etcher, an engraver, and a lithographer of animals, animated landscapes, and portraits.

He was a member of the academies of Brussels, Ghent, Antwerp, St. Petersburg and Amsterdam.

Verboeckhoven was an excellent painter of animals and, together with his pupils, appears to have been the last link to a secular tradition with its roots deep in the 17th century, which linked observation of nature, studied composition, and idealized reproduction of reality. Like the Old Masters, he obtained the colour blue for his skies by grinding down lapis lazuli. He was a prolific artist and very meticulous in his preparation: hundreds of sketches and studies were produced on the spot, assembling different elements like pieces of a jigsaw puzzle. Such was his dexterity that many artists called upon him to enrich their works with some of his animals and figures. Between 1841 and 1842, he visited Italy, Switzerland, and Scotland. His inspiration remained the same and his technique unaltered, but his notebooks were now filled with sketches of different landscapes.

A man of his time, he played an important role in the Belgian Revolution of 1830 and was appointed Director General of the Brussels Museums of Fine Arts by the temporary government. Until the end of his life, he was a member of the Committee of the Royal Museums of Fine Arts and when King Leopold I created the category of Fine Arts at the Academy in 1848, he was on the advisory board. Verboeckhoven was also involved in local politics. From 1861 to 1867, he was the Deputy Mayor for the Schaerbeek Council, Brussels.