Jean-Baptiste Frénet, Nude Self-Portrait (c. 1860)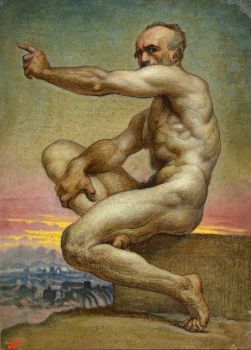 Why are you reporting this puzzle?
Jean-Baptiste Frénet (1814–1889) was one of the most atypical personalities on the Lyon art scene in the 19th century. In the studio of Jean Auguste Dominique Ingres, he received classical training; however, he deviated from this teaching and from traditional canons to favor a more expressive design and to distort the bodies of his subjects, which resulted in the disapproval of his contemporaries. He also was not afraid to use the techniques of drawing and of painting together.

One interpretation of this self-portrait is that the artist depicts himself denouncing, with his index finger raised, his detractors.* His great work, the decor of the crypt of the Basilica of St. Martin Ainay in Lyon, was destroyed a few years after its completion because of a cabal led against it by conservative circles.** Embittered, Frénet gave up painting. He turned to photography, a new field about which he was passionate and which provided a distraction from his difficulties in the art world.

*From the website of the Musée des Beaux Arts de Lyon; Wikipedia refers to this painting as "self-portrait in creationist pose," possiby referring to Michaelangelo's "Creation of Adam" on the ceiling of the Sistine Chapel.

**This information is from the website of the Musée des Beaux Arts de Lyon: according to Wikipedia, the work was damaged by moisture, the sponsors refused to pay Frénet, and the work was destroyed.