Austrian Artist, Anton Filkuka, Titled "Portrait of The Artist's Daughter" A Painting In Oil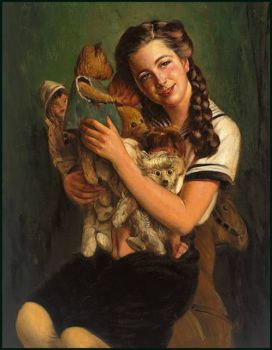 Why are you reporting this puzzle?
Anton Filkuka was a well-known landscape, portrait and genre painter.

He was born on April 30, 1888 in Vienna. His father was a financial accountant and court employee at the court of the German Emperor. His mother came from Germany and was born von Schlagentweith. The family had three children, two daughters and a son.

Although Anton Filkuka's father had reservations about his son's desire to be a painter and to study art, he consented to study art and supported him in his project. Thus, Anton Filkuka received an artistic education at the Vienna Academy of Fine Arts under Sigmund L'Allemand and Christian Griepenkerl as well as at the master schools of Heinrich von Angeli and Kasimir Pochwalski .



Anton Filkuka was already able to celebrate great successes after completing his studies, and he knew how to position himself in Viennese society.
Anton Filkuka was married to Magdalena Filkuka- born Unger , with whom he had a daughter named Eva Maria. Magdalena Filkuka was actress and model of Gustav Klimt and Egon Schiele and of course she was often portrayed by her husband Anton Filkuka.



During the First World War Anton Filkuka was used as a war painter.

After the First World War, he lived and worked mostly in Altaussee and lived there a beautiful villa, right at the entrance. After Altaussee Filkuka was brought by the Austrian composer Wilhelm Kienzl .
Because of his background, Anton Filkuka had good contacts with art-interested audiences, which enabled him, despite the hard times after the war, to make a living for his family of three. His great-nephew Valentin Fischer said that among his great-uncle politicians such as Ignaz Seipel , Cardinal Theodor Innitzer , government officials from Cairo and much of the then established society, including Alma Mahler ,Wilhelm Kienzl came to visit and let himself be painted. In 1950, Anton Filkuka portrayed the princely family of the Princely House of Liechtenstein in Vaduz.

His skills and diligence, but also clever marketing enabled him to lead a pleasant lifestyle for his family.


Anton Filkuka, who according to his grandnephew's estimate made about one thousand paintings and several thousand drawings in his life, once himself described his artistic range

"Ranging from the landscape to the figural, to the flower, to the child, and from there to the portrait."

In addition to numerous landscape depictions from the Ausseerland and the environs of Vienna, his special preference was the genre picture with scenes from the rural milieu.
Afterwards asked which of his works he thought was his best, he said:

"To answer the question, I do not have to think long. It is the last picture of my 80-year-old mother, who, in the transfiguration of the expression, as my friends also confirmed to me, lets slip gently into the hereafter. "

A poster design for the conquest of the Suez Canal at the beginning of the fifties of the last century for General Muhammad Nagib (Muhammad Nagib, 1901-1984, was an Egyptian officer, politician and first president of Egypt ). testify that Anton Filkuka also worked abroad. The poster was made during a state visit in Egypt during the Anton Filkuka, in addition to landscape studies also portrayed the general with his family.

The exhibition in Cairo honored Anton Filkuka, especially as there was also a return visit with generous gifts that the press reported. (Archive Fischer Collection).