Annie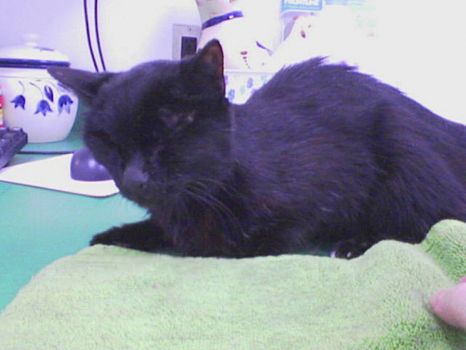 Why are you reporting this puzzle?
My sweet, sweet rescue kitty, near the end of her 22 years. She came with an apartment I moved into in Chicago--the previous tenant asked "Do you want the cats, or should I have them put to sleep?"

"No! No, I'll take them, definitely." He never told me their names, so I named them by their behaviors. Curiosity was a marmalade tom who investigated everything. Serendipity was a long-haired calico who immediately found the fluffiest pillow, and curled up on it.

And for three days as I waited for my furniture to arrive, living in the 2-bedroom apartment with only a bedroll, 2 pillows, and a suitcase, I thought the previous tenant had relented, and kept the little black kitty I'd glimpsed during our walkthrough. Then in the evening, I was reading, Serendipity curled up by my side, and Curiosity lounging in the window, looking for nightbirds or bats or moths to chase. And out of the corner of my eye, I caught a glimpse of movement. Both cats in view, so it couldn't be them.

A mouse? Surely they'd have chased it if it were. I got up, and checked all the rooms. Empty.

Was that a noise in the kitchen? Empty.

The two boys were still in the living room, but watching me now.

Another whisper of noise in the kitchen... behind the fridge, maybe? I got my flashlight, and peered into the shadows behind, beside... and at last, *under* the fridge. And 2 glowing eyes peered back at me, and hissed a little. She'd been living under the fridge, and only creeping out when I wasn't home.

I christened her Antipathy. It took about 2 months for her to brave being in sight, 2 years before she'd climb into my lap. She was little and lithe like a kitten, but never grew bigger. She was old enough to have been both spayed and declawed previous to my arrival in her life.

She was with me more than 21 years. Never weighed more than 6 and a half pounds. Eventually, after three more moves, she got brave enough to let visitors see her. When we lived in smaller towns, she would "a-a-a-a-a-a-a" after wildlife outside the window, imagining herself catching her prey, be they moths or birds, or--one memorable afternoon--deer, grazing in the side yard. My diminutive black panther, thinking thoughts of glory.

As she got more used to--and tolerant of--people, we shortened her name to Annie. She is still my favorite cat.