WA Clouds Over the Tacoma Narrows and the Narrows Bridge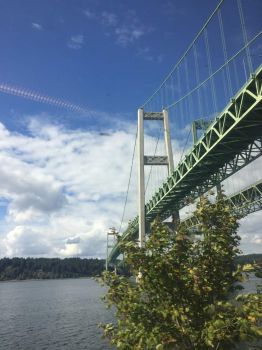 Why are you reporting this puzzle?
The suspension bridge on the lower side is the one that replaced the Galloping Gertie, which crashed into the waters of Puget Sound only 4 months after it opened in1940. For the most part, Gertie's collapse was due to rigid girders on the bridge decking; it couldn't resist the 40 mph winds during a November storm. The collapse changed the way bridges are constructed.
Only one fatality....a puppy dog in a car that fell with the bridge. The replacement (pictured) was finished in 1950. The upper bridge was completed in 2007 and is very similar to the lower bridge. The Tacoma Narrows separate Tacoma from the Kitsap Peninsula in Washington State.