US Watershed Map
US Watershed Map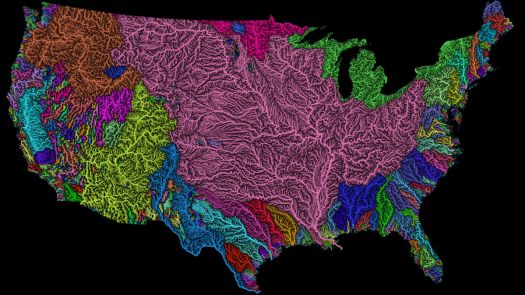 Why are you reporting this puzzle?
This map shows the flow of tributary streams into main rivers, and of those water courses into the sea (or final destinations inland). The streams are shown in the Strahler Stream Order Classification, which uses width to indicate the hierarchy of streams. Watersheds (a.k.a. drainage basins or catchment areas) are grouped together by color.

This, and maps of all of the worlds watersheds, are the work of Hungarian cartographer Robert Szucs, 33. He combines expertise in GIS with a passion for beautiful maps. "GIS is short for Geographic Information Systems. It's a collective word for anything using spatial or geographic data — from monitoring changes in forest cover with satellite data to creating crime density maps for the police," Szucs explains. "In this case, I've used GIS to create artistic maps, which is a beautiful hybrid of the artsy and geeky sides of my personality."

See more of his maps at the website below.