Booker T. Washington (1917) ~ Henry Ossawa Tanner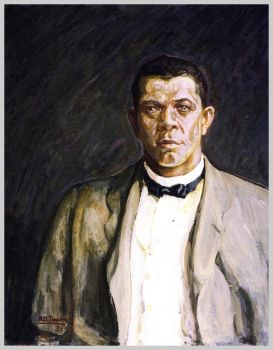 Why are you reporting this puzzle?
Henry Ossawa Tanner (1859-1937) was the first African American painter to achieve nationwide recognition within the art world. He was born in Pittsburgh and grew up in Philadelphia. His mother, Sarah Miller Tanner, had been sent north by her mother through the Underground Railroad to escape the Maafa (slavery) she was born into. Tanner's middle name "Ossawa" is based on the abolitionist John Brown's nickname "Osawatomie" Brown, in honor of the Battle of Osawatomie, Kansas in 1856. Tanner's father was a preacher, and the family was deeply religious. Many of Tanner's paintings feature religious scenes from the Judeo-Christian tradition, but he also painted portraits, landscapes, animals, and scenes from his travels in the Middle East.

In 1899 he married Jessie Olsson, a white Swedish-American opera singer. Knowing that this marriage wouldn't be accepted in the United States, the couple made their home in Paris, where the arts were respected, regardless of the artist's race.

Booker Taliaferro Washington (1856 –1915) was an American educator, author, orator, and adviser to several presidents of the United States. Between 1890 and 1915, Washington was arguably the dominant leader in the African American community and of the contemporary black elite. Washington was from the last generation of black American leaders born into slavery, and he became the leading voice in his time of the formerly enslaved and their descendants.

His base was the Tuskegee Institute, a normal school, later a historically black college in Tuskegee, Alabama, at which he served as principal. As lynchings in the South reached a peak in 1895, Washington called for black progress through education and entrepreneurship, rather than trying to challenge directly the Jim Crow segregation and the disenfranchisement of black voters in the South.

Black activists in the North, led by W. E. B. Du Bois, saw Booker's approach as too accommodating to white supremacy. They founded the National Association for the Advancement of Colored People (NAACP) to work for political change, decades later leading to the Civil Rights Movement of the 1950s and beyond.