My BFF (best fur friends) and Kaleidos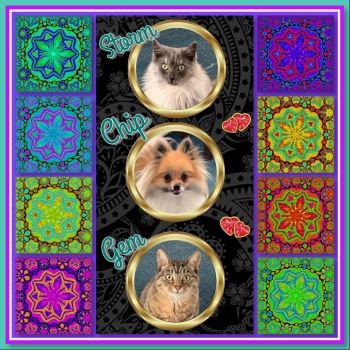 Why are you reporting this puzzle?
These three characters in the centre of the puzzle are my much loved fur friends. Gem is the oldest, she's 8. She had an unfortunate incident when she was only 12 weeks old - strayed into a neighbour's yard where a party was going on. Few inebriated younger folk and she arrived home much later when in the evening with a mutilated face! Vet said it was blunt force trauma and suspected she was kicked or some heavy object collided with her face. So after the assessment and a couple of grand ($) later she had her broken jaw and face operated on. She healed well but it turned her into a non-trusting cat. Only I can pick her up (and I have to do it quickly before she realises!) and will often let out an angry meow if she's patted. But she is okay really, she just appears grumpy and never lashes out in anger. Just if she's scared.
I got Storm two years after Gem - to keep her company as I'd often bring my grandies' young cat home to look after when they went on holidays and it was so cool to see them playing and sleeping cuddled up. Ah, but I didn't realise Gem didn't want ME picking her a new playmate ... so they don't play a lot, and definitely don't snuggle up together. As feisty as Gem is, Storm is the total opposite. Not a "lap" cat but very timid and could almost be seen as shy. She has never shown any signs of aggression.
Then a year ago I got Chip as a puppy, just after Covid restrictions here in NZ were lowered and I could drive 3 hours to collect him. He wants to be best friends and playmates with the cats - but they don't appreciate his attempts at friendship. He stays well clear of Gem, learnt the hard way how long her reach is, but does try to snuggle up close to Storm when she visits me in bed early each morning. But he's a dog & cats don't like dogs (her thinking). So it's a stalemate.
That's my brood - each has their own individual personality and temperament. Wouldn't swap any of them for the world. They make me smile a lot. Hope you enjoyed hearing about them ☺️❤️
Are you curious about how do we review content on Jigidi?

At Jigidi, we celebrate what connects us and steer clear of divisive content because how we meet each other matters. It forms us. When we review the content, we use four 'lenses' and look for what the image or comment is most.