Woodstock, Vermont, USA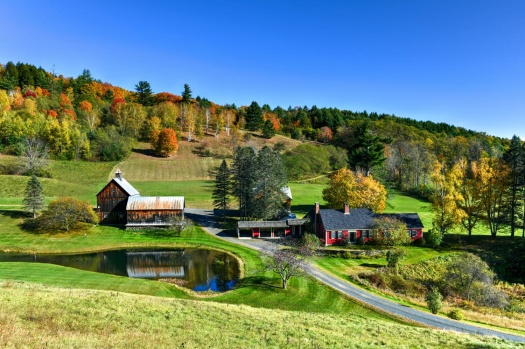 Why are you reporting this puzzle?
Today we visit
Woodstock in Vermont, USA
. The town is named after Woodstock in Oxfordshire, England.
Woodstock is beautifully located in the picturesque New England countryside and has a colonial architectural style. The Qttauquechee River flows through the town that covers a total area of 115,5 km2.
By 2020 count 3005 can call themselves residents of Woodstock.
Woodstock was chartered in 1761 and first settled in 1768 by James Sanderson and his family.
Leveraging the surroundings and riding the changes time offered, Woodstock grew a prosperous town. Nearby waterfalls provided waterpower to operate local mills, and the industrial revolution undergirded development and trade.
Today Woodstock's economy is driven mainly by tourism. Were we lucky enough to visit this soothing place on Earth, the first thing we'd seek out was
the covered bridges in the area
♥