North African Stamps
North African Stamps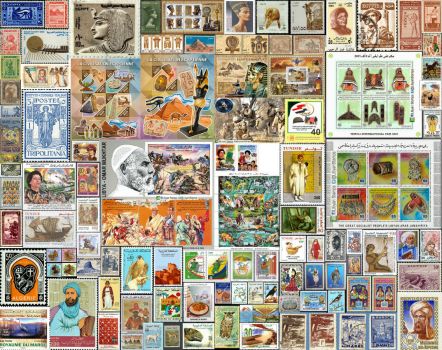 Why are you reporting this puzzle?
This is almost our last stop on our African Safari and it's in the furthest north of the continent. There the African, Arabic and European worlds collided, much as the Sahara meets the Mediterranean Sea. Egypt is the oldest of cultures still extant in some way. The pyramids, Great Sphinx and the images of Nefertiti and Tutankamen are engraven in the world's memory banks. For centuries it has also been a country where conflict has taken place. From the Crusades and the battles between the Knights of St John and the Great Sultans of Turkey who laid claim to Egypt, to the Second World War with the battle of El Alamein, amongst others, to the Suez Canal conflict with Britain and the 1967 war with Israel, Egypt has been involved with fights between East and West, Christian and Muslim.

Most recently the Arab Spring swept the region with a revolutionary wave of both violent and non-violent demonstrations, protests, riots, coups, foreign interventions, and civil wars in North Africa and the Middle East that began on 18 December 2010 in Tunisia with the Tunisian Revolution. After thirty years in power Hosni Mubarak was overthrown in Egypt, Muammar Gaddaffi (The Great Brotherly Leader and Guide!!) fell from power and was killed after 42 years of total dictatorship. Zine El Abidine Ben Ali managed 24 years in Tunisia before fleeing into exile in Saudi Arabia.

From the stamps you might not find this history portrayed except in stamps of the different leaders. What is very apparent is the major influence Islam and Arabic has had on these countries and their cultures. There are rather more praiseworthy figures from the North African past who feature here, notably Avicenna, the great physician, and Ibn Batutta, a great Moroccan explorer who over thirty years travelled all the way to China and back, finally settling in the Maldives because the women were the most beautiful of all he had seen in his travels. (thanks Mike for that gem!)

I hope you all enjoy this camel back ride through the deserts and oases of North Africa's deserts.

I set out alone, having neither fellow-traveller in whose companionship I might find cheer, nor caravan whose part I might join, but swayed by an overmastering impulse within me and a desire long-cherished in my bosom to visit these illustrious sanctuaries. So I braced my resolution to quit my dear ones, female and male, and forsook my home as birds forsake their nests. My parents being yet in the bonds of life, it weighed sorely upon me to part from them, and both they and I were afflicted with sorrow at this separation.' Ibn Battuta

Fortunately I have companions on these digital travels - thanks Jigideers for the awesome company you give me.