In the Trenches by Alphonso Marie de Neuville at the Walters Art Museum, Baltimore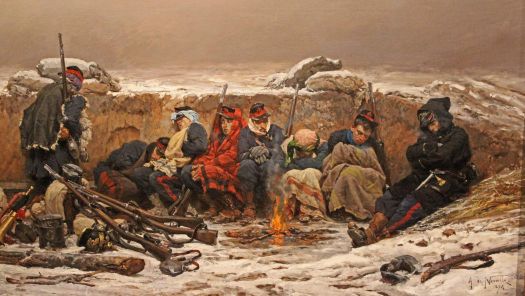 Why are you reporting this puzzle?
from:
https://commons.wikimedia.org/wiki/File:Alphonse_de_Neuville_-_In_the_Trenches_-_Walters_37118.jpg
Alphonse-Marie-Adolphe de Neuville: Dans les tranchées

Artist Alphonse-Marie-Adolphe de Neuville (1836–1885)

Title Dans les tranchées
Object type painting

Description English: Members of the Garde Mobile (French expeditionary forces) are huddled in a shallow trench during the Franco-Prussian War of 1870-71. De Neuville has conveyed the general misery and tedium between battles that is associated with trench warfare. The artist complained that his dealer, Alphonse Goupil, wanted more flattering, less disturbing subjects and refused to pay him more than 6,000 francs, a small fee, for this painting.
Date 1874
--------
Unfortunately, the misery of war shown here continued through WWI, WWII, and other actions. Apparently - even to this day - some people prefer to have pictures of military engagements look less disturbing and somehow - more flattering. The artist or photographer who shows these kinds of scenes upsets these people - even though the picture(s) show realistically some of what happens at these various times during a military engagement.