Cats' Nighmare, Louis Wain. 1890s.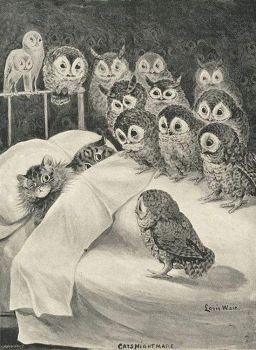 Why are you reporting this puzzle?
"I wish I could write as mysterious as a cat." - Edgar Allan Poe

Louis Wain (5 August 1860 – 4 July 1939) was an English artist best known for his drawings, which consistently featured anthropomorphised large-eyed cats and kittens. In his later years he may have suffered from schizophrenia (although this claim is widely disputed among many specialists if this is true or not), which, according to some psychiatrists, can be seen in his works.

Louis William Wain was born on 5 August 1860 in Clerkenwell in London. His father was a textile trader and embroiderer. He was the first of six children, and the only male child. None of his five sisters ever married. At the age of thirty, his youngest sister was certified as insane, and admitted to an asylum. The remaining sisters lived with their mother for the duration of their lifetimes, as did Louis for the majority of his life.

Wain was born with a cleft lip and the doctor gave his parents the orders that he should not be sent to school or taught until he was ten years old. As a youth, he was often truant from school, and spent much of his childhood wandering around London. Following this period, Louis studied at the West London School of Art and eventually became a teacher there for a short period. At the age of 20, Wain was left to support his mother and his five sisters after his father's death.

Wain soon quit his teaching position to become a freelance artist, and in this role he achieved substantial success. He specialized in drawing animals and country scenes. His work at this time includes a wide variety of animals, and he maintained his ability to draw creatures of all kinds throughout his lifetime. At one point, he hoped to make a living by drawing dog portraits.

At the age of 23, Wain married his sisters' governess, who was ten years his senior (which was considered quite scandalous at the time), and moved with her to Hampstead in north London. Emily soon began to suffer from breast cancer, and died three years into their marriage. But prior to her death, Wain discovered the subject that would define his career. During her illness, Emily was comforted by their pet cat, a kitten they had rescued after hearing him mewing in the rain one night. Emily's spirits were greatly lifted by the cat, and Louis began to draw extensive sketches of him. So began his long association with cats!

Edited from http://en.wikipedia.org/wiki/Louis_Wain
(Hmmm I don't usually regard this source with confidence.) But a look at the totality of his "cats" I find upsetting. . . most are psychedelic in extreme. This one I can handle, and a second one I'm posting, but now I am anxious to see the Benedict Cumberbatch & Claire Foy movie 'Louis Wain' to be released in 2021!