Old Hiwassee River Rail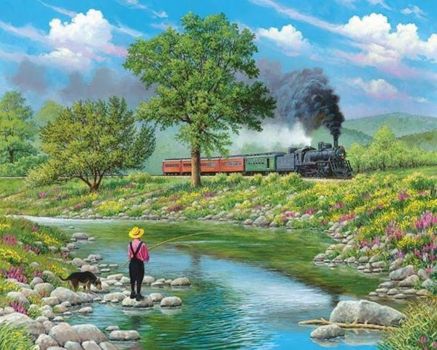 Why are you reporting this puzzle?
Hiwassee River Rail Adventure - Scenic Train Ride.

On this scenic train excursion, passengers can view the beautiful Hiwassee River and Gorge as the train travels alongside the river and then circles around the historic "Hiwassee Loop." The loop corkscrews up the mountain passing over a bridge 62 feet above the tracks on which passengers have just traveled.

The Hiwassee River Rail Adventure is a truly unique railroad experience and has several features that set it apart. The Hiwassee Rail Loop is one of the most unique railroad structures in the nation. It is reputed to be the third longest rail loop in the world. The train travels across the "Old Line," a railroad that was carved into the mountains and river gorge in 1890 and is listed on the National Register of Historic Places. The Hiwassee River Gorge is another striking feature. Tucked into a wilderness area, this natural wonder is accessible only by rail. The Gorge has received the USDA National Forest's highest ranking for scenic beauty.

In warm weather you'll enjoy waving at people riding in canoes, kayaks, rafts, and tubes as they drift with the current. When autumn arrives, the forest bursts forth in orange, yellow, and red hues. To round out the seasons, as the leaves fall from trees, the scenic vistas are opened up allowing views of the surrounding country as well as a glimpse of Apalachia Dam which is situated just across the North Carolina border.

There are two train trips available; one is a half day trip which departs from Etowah, TN travels around the "Loop" and returns. The other trip is an all day ride from Etowah, which travels around the Loop and then on to the historic copper mining town of Copperhill. This trip includes a two hour stopover for dining and shopping.

All trips begin at the restored L&N Depot & Museum in Etowah, Tennessee. Passengers take a short shuttle ride to the train boarding location before transferring to the train. Once on board, the trip begins with a ride along the river crossing over a the Reliance Bridge. Thus begins the circuitous route nestled between hillsides and the scenic Hiwassee River.