Exotic Fruit (#2)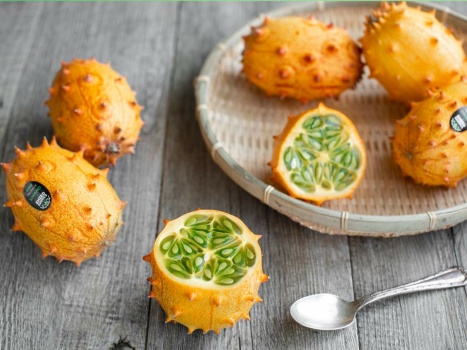 Why are you reporting this puzzle?
The Kiwano Melon:

Cucumis metuliferus, commonly called the African horned cucumber, horned melon, spiked melon, jelly melon, kiwano, or cuke-a-saurus is an annual vine in the cucumber and melon family, Cucurbitaceae. Its fruit has horn-like spines, hence the name "horned melon". The ripe fruit has orange skin and lime green, jelly-like flesh. C. metuliferus is native to Southern Africa. It is found in South Africa, Namibia, Botswana, Zambia, Zimbabwe, Mozambique, and Angola.

Kiwano is a traditional food plant in Africa. Along with the Gemsbok cucumber (Acanthosicyos naudinianus) and Tsamma (Citron melon) it is one of the few sources of water during the dry season in the Kalahari Desert. In northern Zimbabwe it is called gaka or gakachika, and is primarily used as a snack or salad, and rarely for decoration. It can be eaten at any stage of ripening, but when overripe, it will burst forcefully to release seeds.

The fruit's taste has been compared to a combination of banana and passionfruit, cucumber and zucchini, or a combination of banana, cucumber and lime. A small amount of salt or sugar can increase the flavor but the seed content can make eating the fruit less convenient than many common fruits.
Are you a Jigidi Plus member?

When you become a Jigidi Plus member, you'll enjoy the completely ads-free Jigidi experience. Also, you directly support Jigidi and help us be as free as possible to make Jigidi even better every day.