Evening on the Clif by Antonio Cammarata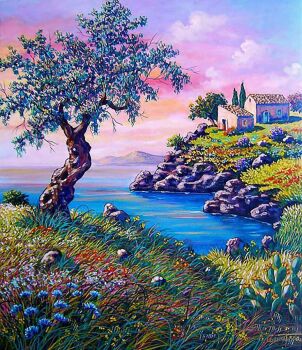 Why are you reporting this puzzle?
Sicily Evening Cliff

A stunning landscape is sometimes as close as your own backyard, and Antonino Cammarata certainly has an amazing "backyard" to paint from! Born on the gorgeous island of Sicily and surrounded by landscapes to die for, Antonino's initial love for painting began at the age of 11, when he found a box of oil paints.

He attended the Art Institute of Syracuse in 1977, began studying Sicilian landscapes in 1983, and has produced bright, cheerful art ever since. And, living in Sicily, how could you not?!

A full spectrum of colors makes Evening on the Cliff fascinating to study. Wild grass fans out amidst azure flowers, brambly cacti and blankets of red blooms, creating a magical ambiance—especially when the sun hits the field just right.

As dusk approaches, light is cast softly upon the greenery, highlighting hues from spearmint to mossy green and uncovering each bud and blossom snuggled between the thin blades of grass.

A magnificent dusty pink and lavender sky paints the inlet with its rosiness, spreading warmth onto the cool-blue still waters. Boulders are scattered here and there, a lesser creation than the majestic rocky mountains in the distance, but still more formidable than the pebbly roofs protecting the modest homes lingering in the distance.