The once sad little dresser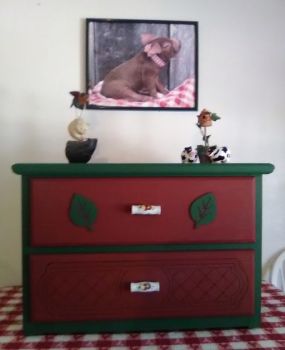 Why are you reporting this puzzle?
This was once a 4 drawer dresser, cut down to a 2 drawer size. It was one of those cheap dressers made of pressed something-or-other. It was damaged by a plumber who flooded my kitchen. I've been working on it for roughly 6 months, slow pace is my speed. It's sitting on top of the table because stooping to snap a picture just doesn't work for me. (: Next step is putting those little button looking sliders on the bottom and it's easier to check the level at that height. It's actually only off by a small smidgeon at one corner.