Little Hoglet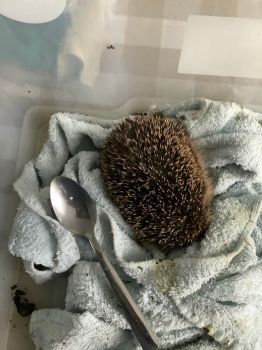 Why are you reporting this puzzle?
The little hog let was sound asleep in the big box. It had eaten a lot of the dog food and munchies and had certainly been in the water!
I put the teaspoon next to it so you can see how tiny it is.
I called the vet and took the little hoglet. They kept it to check that all is well and then it will go to the Wildlife Rescue at Whitby (maybe it will meet the cormorant!). I'll call the vet to check tomorrow.