Hello there, koala! ♥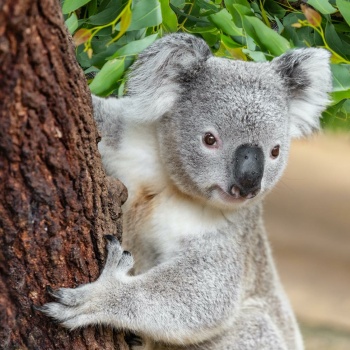 Why are you reporting this puzzle?
In Today's Daily Jigsaw Puzzle, we meet this little guy –
the koala
♥
It is stout, with a large (gorgeous) head, round, fluffy ears, a sizeable spoon-shaped nose, and has no tail. It weighs 4 – 15 kg and is about 60 – 85 cm long.
The koala is native to Australia, where it typically lives in woodlands in coastal areas of the mainland's eastern and southern regions.
Koalas enjoy eating mostly eucalypt leaves (suppose that's what the koala in Today's Puzzle is up to). They are predominantly active at night where they spend most of their time feeding. As this diet holds little nutritional value, they sleep up to 20 hours a day.
They look very cuddly, but in fact, they are asocial beings that bond only with their mothers – and mothers with their dependent offspring.
How does the notifications system work?

When you hold an account on Jigidi, you will receive notifications when someone tags you, upon a new comment on a puzzle you follow and upon new puzzles from a puzzle creator you follow.