Yellow-crowned Night Heron Immature, Jimmy Durante Blvd., Del Mar, California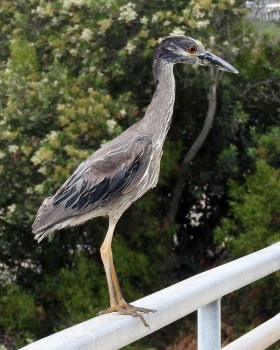 Why are you reporting this puzzle?
I hiked with a new trail patroller Saturday morning. I haven't been seeing much recently so I didn't bother to carry the Canon Rebel, I just slung the lightweight Nikon over my shoulder. I hadn't taken a single photo and we were almost back to our cars an hour and a half after starting out when this immature yellow-crowned night heron flew up from the river and landed on the bridge railing right in front of us.

According to All About Birds, immature yellow-crowns take three to four years to get their full adult coloring. This immature is probably at the older end of the range as it is starting to get the light color on top of the head and around the eye. Eventually the top of the head will be the pale yellow that gives the breed its name and the bit around the eye will be pure white. I was really happy to see this one. They stopped hanging out in the pine tree next to the Del Mar Public Works building and I never did find out where they nested this year. I got spoiled when the yellow-crowns were so easy to find and photograph the last few years!