Viiew from my Patio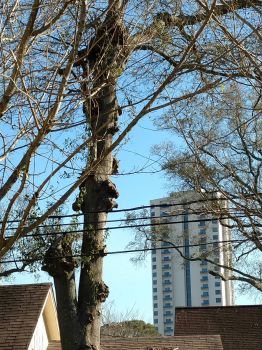 Why are you reporting this puzzle?
1. Almost a musical clef courtesy Verizon, ATT, Comcast and the electric co.
2. The world's ugliest tree belongs to my neighbor across the fence.
3. A stupid eyesore courtesy of a now bankrupt, egotistical real estate developer who thought a 30 story apartment building would be just the thing in a neighborhood of single story, single family homes. He is so proud that the building is lit up at night with shifting multi colors.