Snow on Camel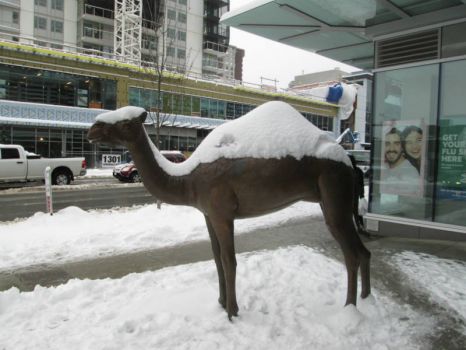 Why are you reporting this puzzle?
A statue on Lonsdale Ave in North Vancouver, Canada
I took this picture yesterday.

The Lady
Artist: Myfanwy MacLeod

In the March 1, 1882 edition of a B.C. newspaper, a notice appeared advertising the sale of 25 camels at a low price to use as pack animals on the Gold Rush routes.
The camels proved completely unsuitable and were put out to pasture where some managed to escape into the wilds of British Columbia. The last sighting of a ferel camel in the province was recorded in the 1930s.
This is a monument to 'The Lady' the last known surviving captive camel who died in 1896.

info from a plaque near the statue
What is the filter for?

Some puzzles are shown behind a filter. These puzzles are within our guidelines but still is material of which some will take great offence. Read more about the reasons and workings of the content filter and how you can set your account up to either see or not see puzzles that are shown behind a filter.